Resistant plastic materials are on the way to replacing metals in a number of applications. The aim is to reduce overall weight and energy consumption, and also to increase resistance to corrosion.
Carbon fiber composite material has been used in the aviation industry for a long time. Latest generation aircraft from Airbus and Boeing have a large number of carbon composite parts, especially in the fuselage.
Another plastic, PEEK also has exceptional mechanical qualities. We can find mechanical parts made of PEEK.
However, it is not possible to do without metal completely. Even for an entirely plastic structure, it is necessary to make the material conductive in order to ensure the functions of electromagnetic protection. Indeed, the metal constitutes a Faraday cage which protects the equipment from external electromagnetic disturbances such as lightning or parasites.
Different techniques have been developed to deposit metal on plastic surfaces. It is therefore necessary to characterize this work in order to ensure a quality metallic coating.
The nondestructive eddy current measurement technique is an ideal candidate for this work of characterizing metal deposits. It is very fast and offers exceptional spatial resolution for the measurement. Compared to a contact method like that of Van der Pol, it is much faster and more punctual.
Here is a link to our video concerning the measurement of electrical conductivity of an aluminum deposit on PEEK. This work was carried out on behalf of ICAR-CM2T, French reference laboratory for the study of ceramic materials.: https://youtu.be/yYpmuEs69Lc.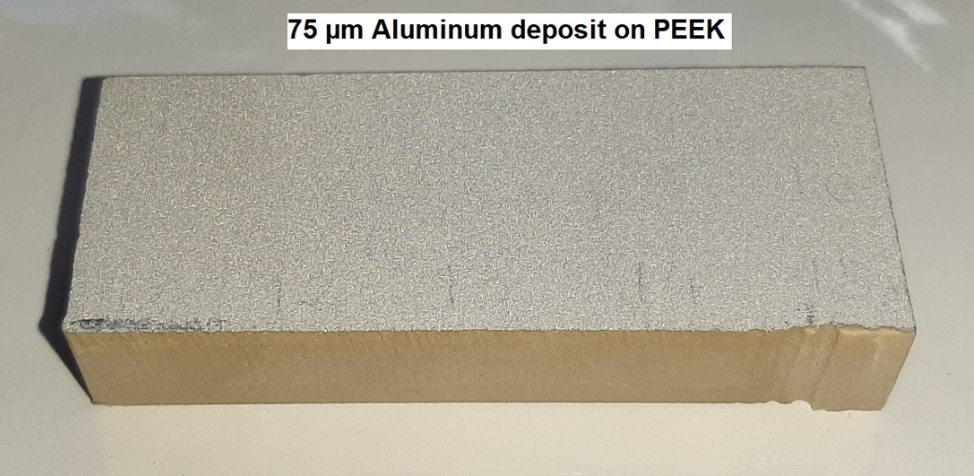 The measuring equipment used is the Z-Scope * vn2k20 from Sciensoria: https://www.sciensoria.fr/nouvel-appareil-a-courants-de-foucault-portable-le-z-scope-vn2k20/. It could also be used for the study of electrical conductivity or the thickness of metal deposits on carbon composite. This measuring device can be used with a 3-axis probe positioner, all managed by WinEC-2017-21 software, as shown in this video https://youtu.be/2hr54x6M0Yg.