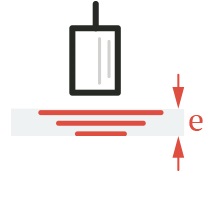 Measurement of thickness
Thickness of products or structures made of conductive materials such as aluminum, copper, titanium, stainless steel, graphite, carbon-fiber composite, … can be measured. The measurement can be carried out from the outside of the surface to be measured, thus allowing a nondestructive evaluation/measurement.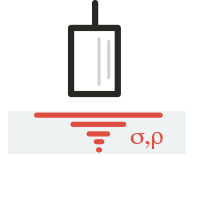 Measurement of electrical conductivity

Measurement is possible on all nonmagnetic metals, some soft steels (magnetic), stainless steels, graphite, carbon-fiber based composite (CFRP). The technology makes it possible to determine electrical conductivity on thin plates or deposits layers.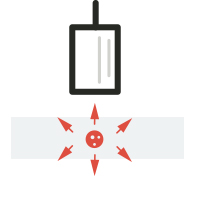 Detection of manufacturing flaws
The measurement of thickness and electrical conductivity of products or structures gives access to their quality assesment.  Sciensoria's technology has been utilised successfully to measure hundred of thousands of car air-conditionner compressor pistons in factory, or to determine the presence of water inside the sheath of submarine oil/gas pipeline.
Applications of our measurement systems