Sciensoria's nondestructive eddy current measurement technique offers an excellent way to measure the conductivity of graphite.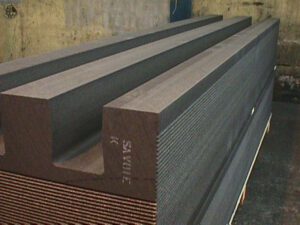 Electrode produced by the UCAR factory at La Léchère, France (73)
"Graphite is a mineral species which is, along with diamond, lonsdalite and chaoite, one of the natural allotropes of carbon. … Graphite has many industrial applications, in various natural or synthetic forms: friction parts , seals, lubricants, motor brushes, as a reducer, in particular in the iron and steel industry (blast furnace coke), as an electrode, for example in the iron and steel industry (electrical steel), as a cathode, for example in the industry of electrolysis of aluminum, as a cathode in electroplating and particularly electroplating, as a moderator in nuclear reactors, as an adsorbent, in "activated carbon" filters, as an electrical conductor (pencil mod, graphite bomb), as a heat exchanger heat for treating hydrochloric acid (making paint pigment), as the main material of carbon fiber, as the main material of badminton rackets in the upper and frame . " (source: Wikipedia https://fr.wikipedia.org/wiki/Graphite).
In 2001, Sciensoria carried out a series of measurements on graphite electrodes on behalf of the UCAR plant (originally Carbone Savoie) in La Léchère (73260). The potential of Sciensoria's material for the study of this material was confirmed on this occasion. Graphite has the particularity of having a very low conductivity, geometrically fairly heterogeneous, with a significant anisotropy, and an often very rough surface which exposes traditional electrical conductivity measuring devices to significant lift-off variations. Sciensoria had to specially develop a technique to overcome these difficulties.
In 2018, the American group Graftech, which acquired UCAR's graphite activities, ordered a measuring unit from Sciensoria. The initiative was led by Mr. François Dodeller, the director of the Calais plant. A few months later, the Apocada plant in Mexico also acquired a measuring unit, followed by the Navarra plant in Spain in 2019.
In addition, the Saint Marys plant in Pennsylvania, United States, placed an order with Sciensoria just before Christmas 2020. With this order, all four factories in the group will now have the same model of equipment supplied by Sciensoria.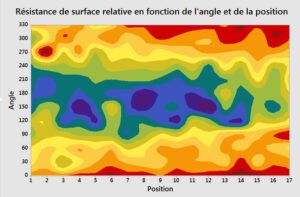 Electrical conductivity cartography of the surface of a graphite cylinder produced by Graftech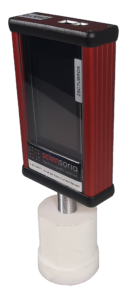 The Z-Scope*7 eddy current instrument made by Sciensoria was used for the application
See also: Z-Scope*7 User's manual (pdf)